Cooking can be….. Well, scary. Some find it hard to cook while other masters it pretty soon. Regardless of which category you belong to, cooking could be full of hiccups initially. But one should be aware of the fact that success in the kitchen starts with small wins. The truth is that many recipes, even the fancy ones are all about building on simple cooking techniques to create one amazing meal. There are an endless amount of cooking techniques one should know, but let's start with few basic tips especially for those who are a beginner in cooking to get off on the right foot and begin to gain confidence in the kitchen.
1. Cooking process is irreversible:
You can always add more while cooking. But once they're in you can't take any ingredients away. This is especially true with salt. So build up a recipe slowly rather than rushing up to the front end.
2. Read recipes thoroughly ahead of time.
When you find a good recipe, you skim it quickly and start cooking. It's not only important to read the recipe before you start cooking, it's also important to read the recipe when you decide to make the dish. Because there is a possibility that there may be information left out in the ingredients list but hidden further down in instructions.
3. Don't leave the kitchen.
Be fully present in your cooking. You've got your meal simmering away on the stove and you know you've got a couple of minutes to put a new load of laundry in. Sure, you can do it. But it's risky. Sometimes nothing bad happens, but other times Things can go from undercooked to cooked, to burned within a matter of minutes.
4. Be okay with failing.
Sometimes things just don't work out as planned. We all hate the idea of throwing food away, but all great cooks have thrown food away. Expect to have to do that sometimes and don't beat yourself up.
5. Don't improvise!
Find a recipe and follow it to the letter. Improvising in the kitchen is not for beginners! Sometimes it takes a few attempts to get it right, so don't let mistakes stop you from trying again.
6. Prepare and organize ahead of time.:
Before you even heat up the pan, get everything prepared. It's very important for safety and also the success of the recipe to be prepared and it will only help you be better cooks. Everything should be chopped, washed, diced, minced, and set out on your countertop prior to cooking. This will save you so much time and stress.
7. Taste as you cook.
Get into what you're cooking. Taste yourself as you go. It'll let you know if what you're making needs more seasoning with herbs or spices.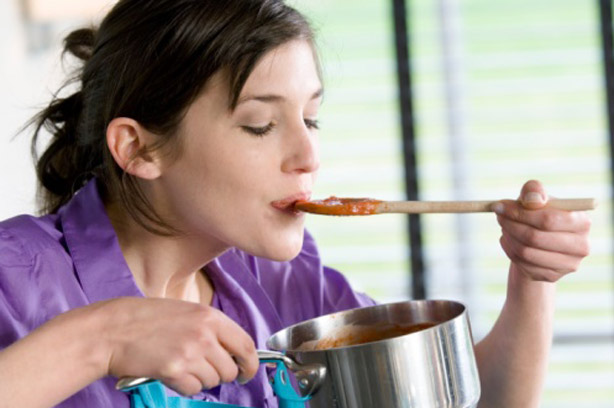 Follow these tips to get it right every time.
Do you still think it's hard and you cannot do it? Then take help of professionals. Qriyo will provide you with home tutors who will be present with you in your kitchen to teach you the basics of cooking. Here are some cooking courses you should definitely look into.
Written by Gouthami Sirpurkar and Editing is done by Talha.