Edtech startup Qriyo launched completely revamped version of their Qriyo Guru app on 15th of November. The newly launched app is especially targeted to professional teachers & freelance instructors who want to teach in their nearby areas. The app will currently serve in Jaipur & Jodhpur.
With new app, teachers & Freelance instructors will now be able to see home tuition opportunities near their area. Also this app will enable them to apply as Qriyo Guru and undergo evaluation test on app itself. After clearing the test and verification they can directly apply to nearby opportunities. This app will also enable them in managing various classes, payments & attendance. This app is a firm step towards Qriyo's vision of generating 1 million employment opportunities by 2020.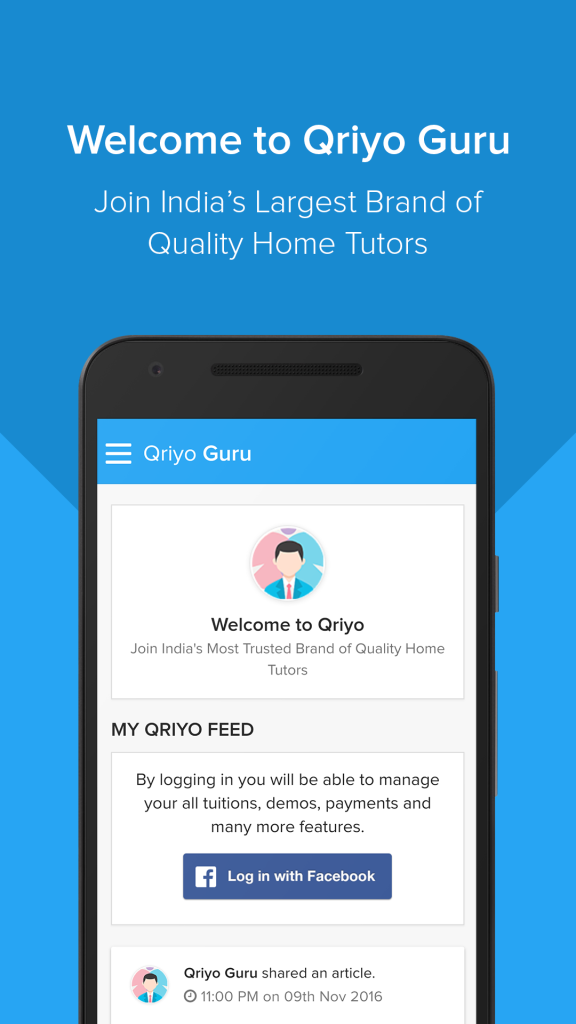 Apart from the live opportunities & Evaluation Test, the new Guru app also boasts of certain new features such as Leaderboard, Invite & Earn, & News Feeds. The Leaderboard showcases Top Gurus in every category (Academics, Dance, Music, Yoga etc.). Gurus can invite their friends to join Qriyo and earn reward points. News Feeds will highlight the recent activities happening at Qriyo such as upcoming teacher training programs, Guru of the Week, Guidelines for Gurus etc.
Currently, Qriyo is operational in Jaipur & Jodhpur. Qriyo received its seed investment of $160,000 from UAE-based Idein Ventures in January this year. Elaborating on the app launch, Rishabh Jain said, "Mobile apps are becoming an important tool for people to book restaurants, movie tickets and what not. We wanted to make it easy for teachers to find home tuition opportunities near their area. Gradually, we are planning to make the app more intuitive and engaging for the teacher community." The Guru app is available for free download on Google Play Store. Don't forget to place your reviews.