What defines a team is not only how capable each individual is but also how capable they are in each other's incapability. It is a puzzle that is solved only when each piece fits with each other in their own incomplete ways. This is how I define Team Jodhpur. Our journey started with endless determination and motivation to work together and progress with Qriyo. Each of us became a selenophile (which does not mean a Selena Gomez fan but one who loves moon and stars) on our quest to reach our moon which was to cross century of active classes. In the journey we met endless excel sheets, printouts, crying, jokes, zeal, CRM (cannot forget), working till 10:00 pm, guidance of Pradeep Sir, dairy milk, surprise gifts, rose and those selfies and laughs.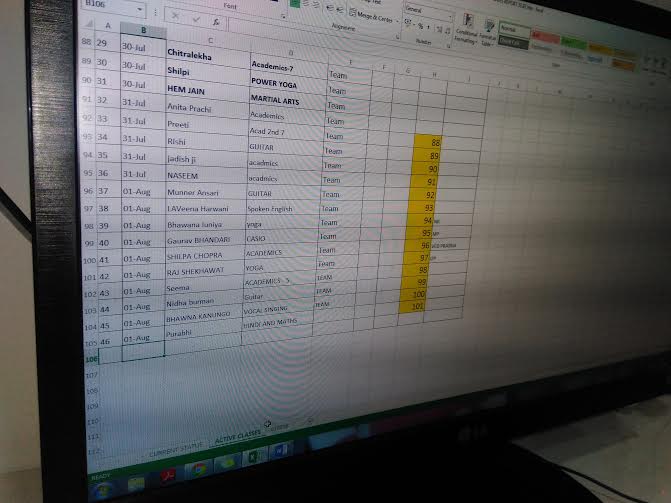 How different pieces fit the puzzle?
Let's start with the Matching team, Anmol (the Bro Code Man) together with Gajendra Ji (the spiritual Man) helped us in finding gurus for every opportunity. Not only that, from managing to Onboarding 5 gurus every day on average to negotiating with gurus at the highest level. They did it all.
Then comes the Sales team, Mahendra ji (The Plan B Man ), Gaurav (The online Man, since his job is offline marketing) and Hemlata (that's me). From making opportunities to scheduling demos and then finally making bookings, it could not have been possible without contribution from each of us. The Plan B Man, a guy with jugaad for almost everything made everything impossible thing possible. The online Man, the only person who makes himself fit for every little task.
Certainly, this could not have been possible without Pradeep Sir . He taught us making reports at the end of each day. A report with detailed information about every customer and tasks assigned to each of us. He was the guide who took us from our present problematic location and made us reach our final destination.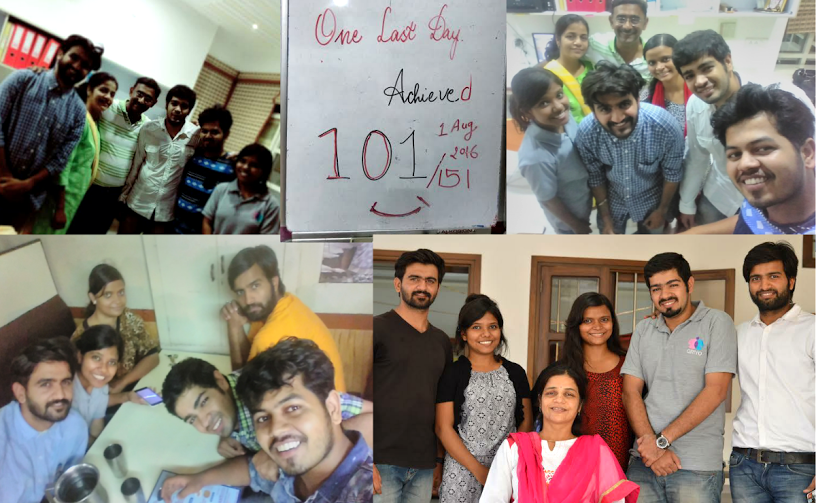 Team Jodhpur | The Start:
Initially, we started with two bookings each day starting from 19th July, when the number was 56 active classes. On the sixth day, the fire in the belly was reignited and that was the day we made 4 bookings. From there the result continued getting better, constantly. On 29th July, we made it to 80. The energy was infinite. 30th was the day that we managed to schedule 18 demos, out of which 11 were converted by the 31st
We failed but refused to give up:
Falls were deep and often. The rise was even higher than the falls. There were customers whose demo were rescheduled from 4 to 5 times. There were customers who waited for Qriyo to serve them for more than ten days. There were customers who quoted, " Without Qriyo, it was impossible to find a counselor, a teacher, and a helping hand."  Not forgetting, the most important people, Our Gurus who took more than five classes, gurus who were honest, and gurus who supported us in every situation. Gurus like Sonali Mam, who was taking 4 classes for Qriyo, Working with Qriyo proves that everything is achievable. Our beloved Caretaker, Harsha Mam supported us in every step, worked with us like one of us. She makes Qriyo feel like home. We in a way are lucky to work from home. Qriyo is our home.
The last hurrah!
The day started with 5 Demos which were already scheduled a day before. And the score was 91. We were near but yet too far. Our day started with 3 leads which we got from our Plan B, that was organic leads. With the plan B, we managed to schedule 11 Demos. It was 7:47pm (I can remember every minute of that magical day) in the evening and the score was 97. The excitement could be compared to that of the last over in a T20 cricket match. 6 demos were scheduled for 7 pm and that was a straight out of the stadium six for us. Every eyeball was stuck on the whiteboard. At 8:17 pm, we had 5 balls and we needed 2 runs. That is, out of 5 demos we needed 2 bookings. It was 8:30 and we achieved 101. If there indeed is a cloud 9 then we were on that cloud 9.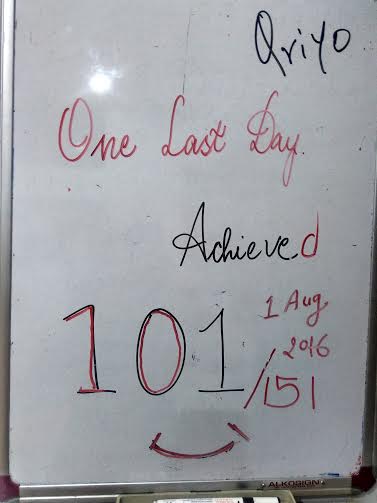 Lessons Learned
Planning helps. Meetings at the end of the day to plan out the next day helped us immensely. Nobody loses, nobody wins. The team loses, the team wins. Believing in yourself and your team and then doing the work is a sure shot success strategy. To reach a bigger milestone we should break it down into smaller milestone. When all the smaller milestone are achieved, the big picture sets itself. This is just the beginning, there is more to come. Viva la Qriyo ( a bit of french we learned on our way, if you want to learn it too start from basics and then go advanced).'
Written primarily by Hemlata Mishra, you can find her here. Adding and deleting of words, also sometimes called editing was done by Talha, you can find him here