A city surrounded by mountains so close that you can wake up early in the morning and gaze at their mesmerizing beauty. The famous Brahma temple and dargah are also situated in this city. Besides being a tourist place, this city also offers good schools that are now increasingly focusing on quality education. As the data suggests, overall quality education is improved in Rajasthan by at least 8-20% during the last two years. That data clearly indicates that there are good schools in Rajasthan, let alone good schools in Ajmer.
A good school focuses on extra-curricular activities, practical knowledge as well as theoretical knowledge. What is the point in memorizing how electricity flows if a child is not able to make a simple electric circuit?  All these schools focus on inculcating important values and making your child an all-rounder. Apart from academics, these schools also help develop the personality of your child, their ability to deal with pressure, and willingness to take risks and work hard.
Below are some of the good schools in Ajmer you can consider for your child's overall growth.
This is a simple list and not ranking of schools.

Founded in 1980, by the President of Mayo College General Council late H.H. Maharao Bhimsinghji, Mayoor school has since built up a reputation for providing quality education. Balanced growth of a child with a global outlook is their mission, which can clearly be seen from their cultural events and extra-curricular activities. If you want your child to not just memorize but to apply, enjoy, and grow, this school is among the good schools in Ajmer you can go for. This one has everything important facility for every age group.
Facilities:
Sports infrastructure: 
SPORTS PAVILIONSHOOTING RANGE TWO FLOODLIT BASKETBALL COURTSTENNIS COURTFOOTBALL AND HOCKEY FIELDSCRICKET FIELD WITH TURF SQUARE

SWIMMING POOL

CLIMBING WALL

SKATING ARENA

BADMINTON COURT

INDOOR TABLE TENNIS FACILITY

Library
Infirmary
Music School
Art school
Performance stage
Science and CIE block
Sophia school was founded in 1919 and is managed by mission sisters of Ajmer. It is a girls school and is open for admission to every girl irrespective of religion. Sophia schools have a great reputed presence in various cities across North India. Just like Mayoor, Sophia school also believes in the balanced development of a child that includes academic performance as well as extra-curricular activities. Therefore, this one is also among the good schools in Ajmer that you can consider for your child.
Facilities:
Activities for Kindergarten Section: Singing, dance, PT, playing.
Cultural events
Computer and science labs
Remedial classes for weaker students
Band and Orchestra
Volleyball
Hockey
Art and craft
Karate
PT, dance, and singing for primary and secondary sections.
Sanskriti school aims to provide a challenging and supportive environment for students to help them achieve highest standards which they are capable of. Be it academics or extracurricular, Sanskriti school has everything a child requires for a growing mind and body. That is why it is a must in the list of good schools in Ajmer.
Facilities:
Infirmary
Amphitheatre for plays, orchestra, choir, and presentations
Information is sent to parents via phone/e-mail regarding child's performance and whereabouts
Science, computer and math labs
Library
Art and craft studio
Dance and music studio
400m race track
Cricket, football, hockey & horse riding, table tennis, and badminton
Basketball, volleyball and lawn tennis  courts
25m long swimming pool
Squash courts and squash pool
Multi-gym
The Ryan group started their first school in 1976 and today it has a total of 135+ schools across 18 states of India. With a proven track record of qualitative learning, the school is surely among the good schools in Ajmer.  They believe in The KASSM approach, Knowledge, Attitude, Skills, Social and Moral Values. All of these things are equally important for Ryan school as well as for parents. Like the above-mentioned schools, this one also has to offer a plethora of facilities needed for KASSM approach. Ryan schools also send students to Indian Model United Nations (INMUN) where delegates from 120 countries come together and put efforts to resolve issues in the world.
Facilities:
– INMUN Indian Model United Nations
– ICFPA- International Children's Festival of Performing Arts
– ICEPLEX a Ryan Media Initiative
– BBN Beyond Breaking News – Journalism
– NASA Trip
– Social Service Teen Camp
– Competitive Exams : ISO, IMO
Academic

– Activity-based learning
– Well equipped computer labs
– Well maintained and updated library
– Physics, chemistry and Biology Laboratory

Sports

– Training for Football
– Basket and Handball ground
– Indoor game block for Table tennis, Chess
– Judo and skating
– Active Participation in DSO, MSSA, MSDAA, AISM
Delhi Public schools feel that it is their responsibility that their student should be able to adapt as per future trends with overall personality development and academic performance. This responsibility itself speaks about the school. If we are talking about good schools in Ajmer then every parameter for child's learning and development should be covered. DPS does their best to make your child achieve his/her maximum potential and skills.
Facilities:
Infirmary
Horse riding
Library
Basketball court
Gym
Computer and science labs
Smart classrooms
Big playground
Music studio
Gaming zone for small kids
Cultural events (plays, dance, etc)
Art and craft
It was formed in 1940 by the name "St. Anselm's Annexe" as it was in the St. Anselm's campus. Today, run by Roman Catholic Diocesan Education Society, Ajmer (Rajasthan) through its member priests, St. Paul's school has made a commendable contribution towards helping lacs of students achieve their maximum potential and have a lucrative career in whatever field they like. Only academics excellence is no longer demanded in today's world. One has to be smart, innovative, and think out of the box. The schools teaching methods are aimed at producing future leaders who are easily adaptable to change.
Facilities:
Physics/Chemistry/Bio/Maths/Geography Labs
Library
Playground
Smart classes
Gymnastics
Badminton
Table tennis
Activity room
Music, Art, and craft.
Like Sophia, Saint Mary's is also a Christian minority educational institution, and the very first. St. Mary's has been in existence for over 121 years, carrying a proven track record success. It is also a girls school open for admissions to all girls irrespective of religion. Their motto is LET THE LIGHT SHINE, light of truth, compassion, kindness, forgiveness, love, and charity at all times and everywhere. Your child will be taught moral values and their importance, that much is pretty clear from the motto itself. Besides this, they also believe in overall development including academics, practical applications, physical fitness, sports, extra-curricular etc. Their teaching methods are designed in a way that prepares your child to become a future leader.
Facilities:
Science Block
Computer labs
Library
Leadership activities participation
Cultural activities
Sports
Playground
Art and craft
Music, plays, drama, etc.
This school also cannot miss a spot in the "good schools in Ajmer" list. Qualitative learning, and not a mere promotion to the next class is ensured at St. Stephen's Sr. Sec. School. They have 6 simple core values:
Self Discipline
Integrity
Mutual Respect
Pursuit of Excellence
Learning for Life
Environmental Management
Facilities:
3114.7 square meters playground area
Indoor games
Dance rooms
Music rooms
Health and medical checkup
Sexual Harassment Committee
Separate Libraries for primary and secondary sections
Cultural activities
Computer and science labs
Yoga
Outdoor games (Basketball Cricket, Volleyball, etc)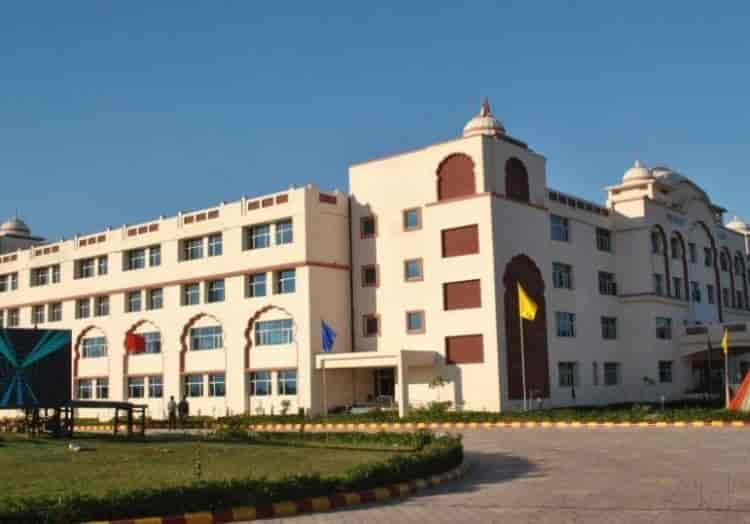 Presidency school strives to provide best possible resources to students for their academic and non-academic success in future. Teaching them social and moral values, making them future-proof with dynamic leadership lessons are also among their top priorities. And the most important thing, applying the logics practically is focused on. This is what all good schools in Ajmer focus on. Their seven Cs are Creativity, challenge, communication, caring, community, consistency, and contribution.
Facilities:
Toy room
Outdoor play area
Technology Enabled Classroom for Better E-Learning
Music and Dance Studio
Art and Craft Studio
Junior Infotech Centre
Junior Library
Science, math, computer and language labs
Medical facilities
Counselling centre
Horse riding
Tight security with employee background checks and safety drills
Indoor games (carrom, table tennis, chess etc)
Outdoors games (cricket, football, volleyball, badminton, hockey, swimming, athletics and more)
Martial Arts
Skating
Cultural events
Yoga and meditation
Theatre, photography, pottery and other visual performances
Not just in Ajmer, St. Anselm's has a good name in numerous Indian cities. Therefore one of the good schools in Ajmer includes this name. Quality education is their utmost priority and with a special focus on character building. They want the students to reach the pinnacle of what they desire to do in life. Exposing them to various extra-curricular activities and sports is what they believe essential for overall development of a person. Good schools in Ajmer and even in Rajasthan have a true understanding of what is required for child's overall development.
Facilities:
Computer, science labs
AV room
Hall
Open air stage
Medical facility
Table tennis among other indoor games
Instant SMS to parents
Basketball courts (2) among other sports
Purified water
Cultural events
Music, art, and dance
You have the top 10 good schools in Ajmer. If you have moved to Ajmer and looking for a perfect school for your kid, we hope our post helped you to narrow down your search. Finding the right school is crucial, just like finding the right home tutor is crucial. Every child has his own strengths and weaknesses, sometimes, the child is not able to overcome his weakness in school. Don't let that weakness become a big problem in future, get an academic home tutor for your child, with his personal attention and consistency, your child can keep all the subjects together and score well. Qriyo also offers home tutors for extra-curricular activities. If your child likes to sing or play guitar, get a music home tutor with whose help your child can surely win competitions in school.
Download our home tuition app or visit our home tuition website to request a demo today.