"Live as if you were to die tomorrow.
 Learn as if you were to live forever." – Mohandas Karamchand Gandhi
Learning something new involves a lot of courage and hard work. Not because one is weak at it, or because one can't do it, but because the ability to learn something new is in all of us. All it requires is a little push, from our side as well as from the side of others who play an indirect role in our learning.

'ENGLISH' as it has become one of the most widely spoken and written language everywhere. Those who cannot speak English or read the language are looked down upon. Even for things which seem to be very easy, a person whose English is not very good may refrain from doing the task. For instance, when a mother who is a homemaker may shy away from going to the Parent- Teacher meeting, in her daughter's school. As the mother would feel that because of her broken English she might embrace herself as well as her daughter.
But this is not the only reason, why one should thrive upon learning English. The other reasons are-
Most people in the world,  speak English as the second language rather than the first language. As per the stats, more than 1.4 billion people speak English as a second language. One can say that English is a key or a special currency. It helps you unlocks the door all over the world, so you can communicate with people from all different countries.

b) FOR YOUR MIND
Learning a language is great for mental stimulation. It uses a part of your brain, that would otherwise just sleep. Learning a language requires- patience, memory, analytical skills and social skills. These are the skills which help in every aspect of one's life.
c) FOR THE WEB
Most of the internet is in English. If you want to create a website for a business that you do or maybe you just want to surf the web or socialize with your friends. The Internet is a great platform for one to find out all the friends that you would have been missing since the age you have married. It helps you surf the web for different kinds of things that you can do to utilize your time well, which gives you various different choices.
d) AN ONLINE CLASS
One can learn more about a particular method of stitching/cooking that you would have heard of and would have found interesting. One might not want to spend money on classes, everything available on the internet, one just needs to use properly. English will help you achieve the above goal.
e) READ LABELS WHILE SHOPPING
Mostly housewives go for grocery shopping and for other daily stuff as well. It is good to read the content, before actually paying for them. It helps you read the content properly and check out, whether you need them or not or is it actually fulfilling the nutritional value that is required by your family. It helps you make a wiser choice.
f) BIGGEST MOVIES AND BOOKS ARE IN ENGLISH
You might be a vivid reader or a movie watcher, so why keep yourself limited only to your regional language. Hollywood is the biggest movie industry. Most prominent books in the world are either written or translated into English. So why miss on such important and mind expanding stuff.
One might feel insecure of trying something new at such an age. But as the saying goes, " The morning is when you wake up."
It is not that difficult to learn English, various places where one can learn English are-
a) English Classes: You can find the board of English classes at every nook and corner of the city but it is advisable to go for only the classified classes.
b) Internet- the Internet has a variety of videos for beginners where one can learn how to learn the language.
c) QRIYO- One of the best platforms to learn English is take home- tuitions from QRIYO, where it provides you the best-qualified teacher for your perfect growth and that too sitting in the comfortable ambiance of your home.
"You are never too old to set another goal or to dream a new dream. " – C.S Lewis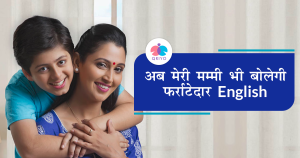 Find a perfect home tutor for Spoken English. Qriyo | Tutor in a tap, India's first managed home tuition app.
Download Qriyo app – qriyo.com/app to book a Spoken English course today! or Visit – qriyo.com to schedule your first class.